Subscribe to Stay Informed
Back to Alerts
The Gig Alert Newsletter - HAPPY NEW YEAR'S EVE!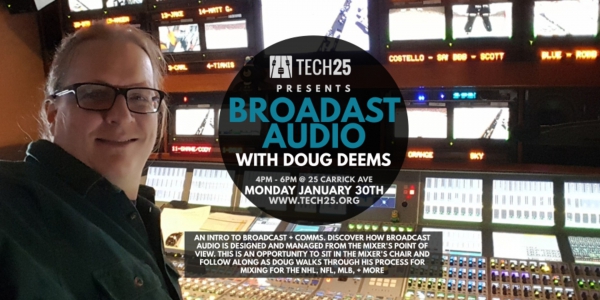 HAPPY HOLDIDAYS FROM THE TECH25 CREW!

We will be back with a traditional GigAlert Newsletter next week!
In the meantime checkout the newly launched RadioCarrick Podcast.

SPOTIFY LINK


---
PROGRAMS & WORKSHOPS
Have you been through our programming and our now looking to step into another sector of the audio world? Check out our next workshop with
Fox Sports A1 Doug Deems!
BROADCAST AUDIO WITH DOUG DEEMS
01/30/2023 4:00pm - 6:00pm
25 Carrick Ave (Tech25)
LINK TO EVENTBRITE


---