Subscribe to Stay Informed
Back to Alerts
GIG ALERTS!!! - DRAFT Week of 07/31/2022

Job Openings

AUDIO TECHNICIAN - STEELCITY WHEELHOUSE Pittsburgh, PA LINK
RADIO PRODUCTION CORDINATOR - ROBERT MORRIS UNIVERSITY Moon, PA
LINK
BROADCAST TECHNICIAN - CBS PITTSBURGH Pittsburgh, PA
LINK
TECHNOLOGY SUPPORT TECHNICIAN Homestead, PA
LINK
TECHNICAL THEATER PROFESSIONALS - KELLY STRAYHORN THEATER Pittsburgh, PA
LINK
IHEARTRADIO - PITTSBURGH PROMOTIONS
Pittsburgh, PA
LINK
HAUNTED HOUSE TECHNICIAN - RWS ENTERTAINMENT (KENNYWOOD) West Mifflin, PA LINK
VIDEO PRODUCER - PITTSBURGH PENGUINS Pittsburgh, PA LINK
RECREATION LEADER PT - CITY OF PITTSBURGH Pittsburgh, PA LINK
LIGHTING TECHNICIAN - OAKS THEATER Oakmont, PA LINK
Make sure to follow HearCorp to keep up to date with jobs for them!
---
LETS TALK TECH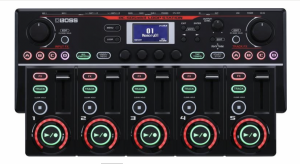 From Sweetwater.com: Its has 32-bit AD/DA conversion and 32-bit floating-point processing! You have a ton of effects, including 49 Input FX for processing incoming signals, and 53 Track FX for further manipulation of your looped phrases. Dual XLR mic inputs (with phantom power for condenser mics), a pair of stereo line inputs, and three stereo line output pairs.
---
Resource Corner!
This one comes from the great Carolyn Slothour - our Live Sound Guru!
Checkout Quiztones: EQ Ear Training - Made By The Pro Audio Files
Only available in the Apple app store
App Description: Get better mixes in two weeks. Actually.
Train your ears to recognize boosts and cuts in frequency and take your mixes, recordings and productions to the next level with Quiztones EQ ear training for audio engineers, producers and musicians. Quiztones uses tones and frequency-altered noise and musical loops (including source material from your own music library) to train your ears so you can intuitively identify frequency boosts, cuts and changes in level and develop more acute listening, EQ and frequency recognition skills. It cleverly uses quizzes to guide you through various training exercises, and lets you track your progress with a built-in score log.